Performing the actual migration is often a moment to cross your fingers … and of course you will receive some errors when you start moving the first mailboxes.
Error:
Insuff_Access_rights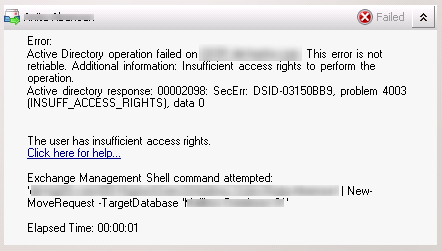 Luckely, this one can pretty easy be fixed.
Solution:
Follow the following steps:
Open your Active Directory Users and Computers MMC snapin.
Go to the View menu and activate Advanced Features
Now open the properties of the

affected user account

Go to the Security tab
Click on Advanced
Select: Include inheritable permissions from this object's parent
Click Apply and OK!
Now you should be able to move the mailbox to the new mailbox datastore.