Most often you want to restrict access to control panel items, but you probably want to see some icons (for example Regional Settings, Mouse and Mail). By default Server 2008R2 only shows the categories and not the individual icons. Let's make it the classic look, so we see our icons right away.
Solution: Make a change to the Registry by using a GPO
Open your RDS Server User Policy and expand the following folders:
User Configuration, Preferences, Registry
Right click and choose New, Registry Item
Hive: HKEY_CURRENT_USER
Key Path: Software\Microsoft\Windows\CurrentVersion\Policies\Explorer
Value name: ForceClassicControlPanel
Value type: REG_DWORD
Value Data (hex): 00000001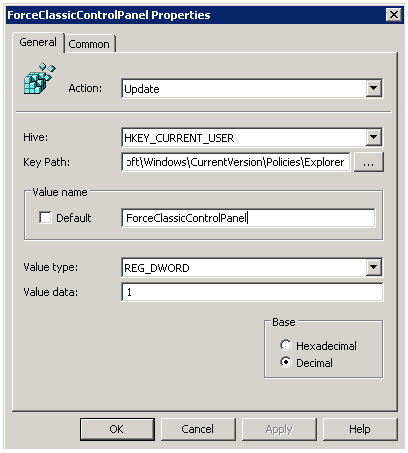 All should look like the above screenshot. Click OK and you're all set!
More tips and tricks can be found on my Remote Desktop services 2008R2 page.