By default every user will get the Server Manager icon on his or her taskbar when logging on to the RDS server 2012. This is very annoying because users don't want to see any icons they can't use. Administrator do like to have those icons pinned on the taskbar.
Solution: Make a change to the File System by using a GPO
Open your RDS Server Machine Policy and expand the following folders:
Computer Configuration, Policies, Windows Settings, Security Settings, File System
Right click and choose Add File Browse to the following file:
%AllUsersProfile%\Microsoft\Windows\Start Menu\Programs\Administrative Tools\Server Manager.lnk
Click on OK to continue
In the security screen you'll have to remove the Creator Owner and Users Group, which will leave the All Application Packages, System and  Administrators left.
Click on OK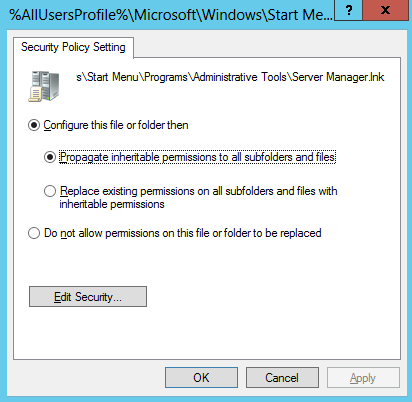 Leave default settings and click OK
And you're al set!
**EDIT:**
After you have set this do not forget to refresh the machine policy or it won't work.
More tips and tricks can be found on my Remote Desktop services 2012 page.