When running the RDS server on VMware you will find the VMware tools icon in the system tray. But users really don't need / want to the icon, so let's make it dissapear.
Solution:
Make a change to the Registry by using a GPO
Open your RDS Server Machine Policy and expand the following folders:
Computer Configuration, Preferences, Registry
Right click and choose New, Registry Item
Hive: HKEY_LOCAL_MACHINE
Key Path: SOFTWARE\VMware, Inc.\VMware Tools
Value name: ShowTray
Value type: REG_DWORD
Value Data (hex): 00000000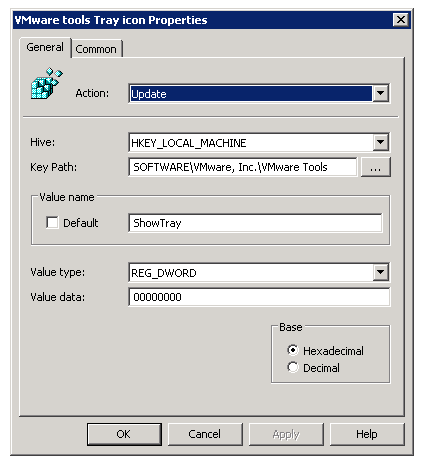 All should look like the above screenshot.
Click OK and you're all set!
NOTE: When you logon as an Administrator, you will find the VMware Tools in the Control Panel!
More tips and tricks can be found on my Remote Desktop services 2008R2 page.