Nowadays more servers have a interal USB port or a Flashcard slot on the motherboard, which is really handy when using VMware vSphere, that's why i want to show you how to install your vSphere to a USB drive or Flashcard.
In my installation i use a HP 4 GB SD Flash Media. (580387-B21) and VMware Workstation, but this is also possible direclty on your server.
Steps:
Download VMware ISO
Create a Red Hat Enterprise Linux 5 64-bit VM
Connect your flashcard
Install vSphere
Download VMware ISO
First step is to download the lastest installation .iso, go to the VMware.com website and logon with your VMware account.
Here you can download your vSphere ISO.
Create a Red Hat Enterprise Linux 5 64-bit VM
Within VMware Workstation create a new Virtual Machine (CTRL+N)
Choose for a Typical configuration and press next.
Choose " I will install the operating system later " and press next.
Select Linux and scroll down to " Red Hat Enterprise Linux 5 64-bit " and press next.
Customize the name and file location or go for the default and press next.
We don't need a local drive but you have to choose it, press next.
Click on Finish to make your VM.
Now click on the edit virtual machine settings to make it suit our needs.
Remove the harddrive and change your dvd drive to use ISO image file and point this to the downloaded ISO.
Connect your flashcard
Connect your flashdrive to your computer and start your newly created Virtual Machine.
When the boot menu from VMware appears, go to the menu VM, Removable Devices, USB Mass Storage Device and click on Connect (Disconnect from host)
Now your Flashcard  will be connected to the Virtual Host.
Install vSphere
Now let the installation begin:
Press Enter to start the installation
Press F11 to Accept and Continue
Now Select your Storage Device on which you want to install vSphere.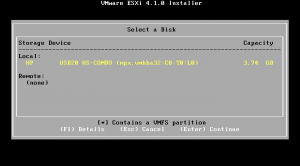 Press Enter to confirm that the Selected disk can be overwritten
Press F11 to start installation
Press Enter to Reboot your server
Last but not least, make sure that your that the bootorder is correctly set in the BIOS!